10 Januari 2022 - Product Review

TAG Heuer Carrera Edisi Spesial Tahun Baru Imlek
Karena Tiongkok terus tumbuh dan berkembang sebagai salah satu pasar barang mewah terbesar di dunia, perayaan Tahun Baru Imlek telah menjadi tradisi penting bagi industri jam tangan. Setiap tahun, merek-merek dari seluruh dunia menciptakan rilisan yang luar biasa dan khas untuk merayakan Tahun Baru Imlek.
Saat 2022 jatuh di Tahun Macan, TAG Heuer meluncurkan model baru pertamanya tahun ini dengan tema yang sesuai. TAG Heuer Carrera Year of the Tiger Limited Edition ini menata ulang Carrera three hands yang baru-baru ini diluncurkan dengan desain dial baru, menambahkan energi yang dahsyat ke sebuah platform yang terkendali dengan rapi.
Enjoy installment up to 36 months, cashback, and exclusive gift with any purchase.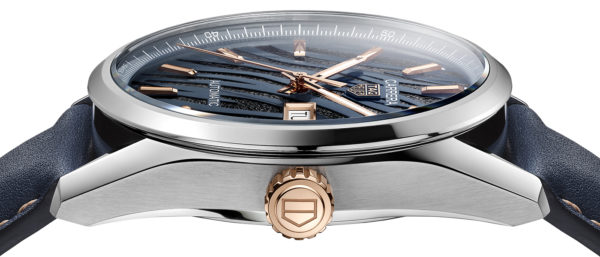 TAG Heuer Carrera Year of the Tiger Limited Edition hadir dengan case stainless steel 41mm, membawa interpretasi kontemporer yang ramping dengan bentuk Carrera bersudut klasik. Bezel tipis yang dipoles memberikan porsi yang pas untuk desain dial modern bergambar, sedangkan, lug miring bersudut khas menjaga kemiripan keluarga Carrera tetap kuat.
TAG Heuer memperindah formula yang sudah dikenal ini dengan crown bertanda rose gold 18K 5N. Sentuhan visual unik dari Carrera Year of the Tiger Limited Edition lainnya terpampang pada seluruh case belakang. Untuk menghormati Tahun Macan, merek tersebut menambahkan tampilan harimau dengan warna biru tua, menggeram dan siap menerkam.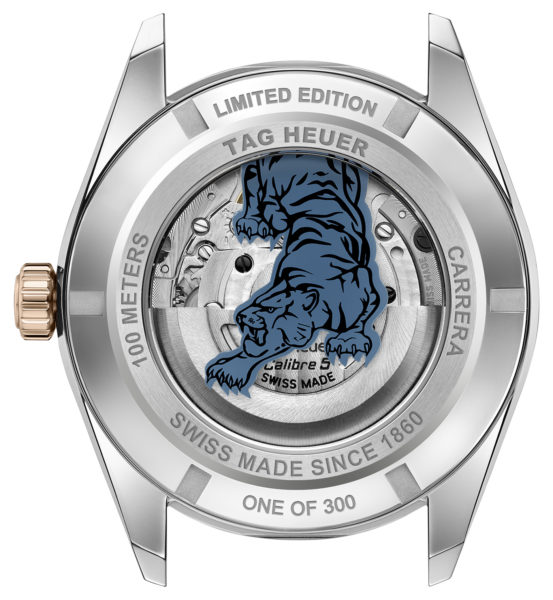 TAG Heuer benar-benar membuat Carrera Year of the Tiger Limited Edition ini berbeda dari model lain dengan finishing dial yang menarik. Jarum jam emas mawar 18K 5N dan indeks yang serasi seharusnya tidak asing bagi penggemar TAG Heuer, tetapi permukaan di bawah elemen tradisional ini hadir lebih liar dan berlapis.
Merek dengan cerdik mengintegrasikan motif harimau ke dial jam dengan menggabungkan permukaan utama biru tua yang disikat secara horizontal dengan elemen tersembunyi dalam warna hitam bertekstur yang hampir terlihat seperti aspal. Selain menciptakan pola garis harimau terbalik dalam gambar, konsep dial cutout ini dengan cekatan memamerkan kemampuan penyelesaian dial dari TAG Heuer.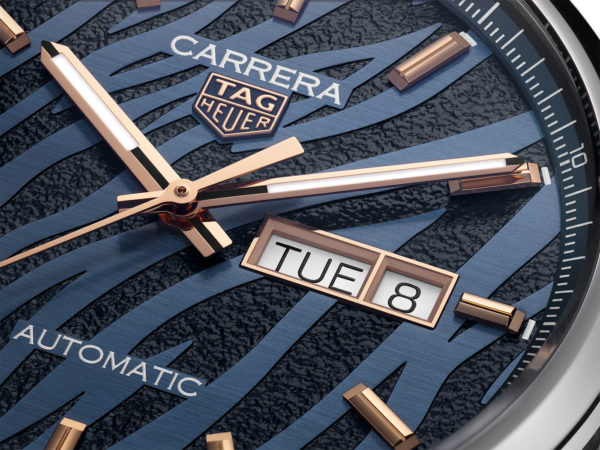 TAG Heuer Carrera Year of the Tiger Limited Edition ditenagai oleh movement otomatis Calibre 5 berbasis ETA. Kaliber 5 adalah tulang punggung koleksi three hands TAG Heuer dengan cadangan daya 38 jam dan berdenyut pada kecepatan 28.800 bph. TAG Heuer melengkapi Carrera Year of the Tiger Limited Edition dengan strap kulit berwarna biru tua yang menampilkan jahitan kontras warna rose gold yang dramatis.
Apakah Anda tertarik untuk memiliki jam tangan ini? Jika iya, silahkan kunjungi butik TAG Heuer terdekat untuk informasi lebih lanjut.
---
Hubungi Kami
---